Sites You Just Might Love...
Celebrating Life Ministries - Spiritual Healing Ministry founded by Ron Roth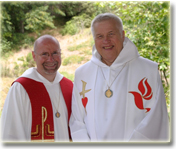 Celebrating Life Ministries is a growing and active interfaith spiritual community that nourishes itself and the global community through the Divine Presence in the form of loving service, devotion and prayer.
Founded by mystic, author and spiritual healer, Rev. Ron Roth, and now lead by Spiritual Shepard Rev. Paul Funfsinn, Celebrating Life provides healing services, spiritual growth programs and gatherings for their spiritual family; where participants are welcome to experience, harness and expand the loving presence of the Holy Spirit in their individual and collective ministries.
Celebrating Life Ministries also offers healing services, education programs, sacred travel opportunities, and semi-annual retreats to the general public.
---
Oneness University - Spiritual School for Awakening & God-Realization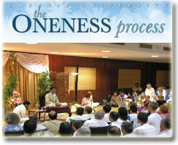 The Oneness University was established in 2002 by co-founders Sri Bhagavan and his wife, Sri Amma. They are the inspiration, power and the wisdom behind this one-of-a-kind University.It was founded to create individuals who can begin to live in a naturally awakened state - a state often referred to as Oneness.
Bringing about this collective shift in human consciousness is possible only when each individual begins to awaken to themselves, to their true Source. As we begin to awaken individually, we awaken collectively. This is the mission of the Oneness University - a passion to "set humanity totally and unconditionally free."
---
---
Dr. Rev. Elizabeth Severino - Animal Communicator

Elizabeth Severino, D.D., D.R.S., known world-wide as The Voice for All Creatures, is an Advanced Healing Communicator for Animals and People. Although best known in her current field as an animal communicator and for the book, The Animals' Viewpoint on Dying, Death, and Euthanasia, she is the author altogether of six published books, including one about computer systems architecture and the Barnes and Noble best-seller about personal transformations, Stories of Transformation.

Ordained as a Spiritual Healer by Ron Roth, she is certified in many energy and spiritual healing modalities. Active now via Internet and telephone with clients in 32 countries, she has studied with healers, priests, and shamans in the United States, Mexico, Canada, China, India, Malaysia, and Bali. She was recognized recently by a British Publication for being one of the top 9 "most accomplished and most influential animal communicators in the world." Her accomplishments are chronicled in dozens of "Who's Who" books nationally and internationally, including International Leaders in Achievement, published in Cambridge, England.

---
Self Realization Fellowship

For three quarters of a century, Self-Realization Fellowship, a worldwide religious organization with international headquarters in Los Angeles, has been dedicated to carrying on the spiritual and humanitarian work of Paramahansa Yogananda. Through their worldwide service, they seek to foster a spirit of greater understanding and goodwill among the diverse people and nations of our global family, and to help those of all cultures and creeds to realize and express more fully in their lives the beauty, nobility, and divinity of the human spirit.
Paramahansa Yogananda founded Self-Realization Fellowship in 1920 to make available the universal teachings of Kriya Yoga, a sacred spiritual science originating millenniums ago in India. The society publishes Paramahansa Yogananda's writings, lectures, and recorded talks; oversees temples, retreats, meditation centers, and the monastic communities of the Self-Realization Order; and guides the work of the Worldwide Prayer Circle, a network of groups and individuals dedicated to praying for those in need of physical, mental, or spiritual aid and for world peace and harmony.
---
Kriya Yoga Institute

Kriya Yoga Institute was founded by self-realized master, Paramahamsa Hariharananda. Like Paramahamsa Yogananda, Hariharananda was a direct disciple of Swami Sri Yukteshwar. Upon Yukteshwar's mahasamadhi (conscious exit of the soul from the body) Hariharananda presided over his ashram in India. Later, upon the urging of Yogananda, Hariharananda came to the West in the 1950's to continue the teachings of Kriya Yoga.

With his mahasamadhi in 2002, Paramahamsa Prajnanananda, a realized disciple of Paramahamsa Hariharananda, was appointed the leader of Kriya Yoga Institute. He travels the world as a powerful spiritual master, loving teacher, prolific author, and speaker on world religions. Under his loving direction, the Kriya Yoga international organization, supported by its monks, yogacharyas and devotees, continues to thrive.